Validity date: 45days

Model Description QTY

gantry type plasma cutting machine

Effective cutting area

2200mmx4000mm

1set

Plasma max cutting thickness

Machine size

3000mmx6000mm
Main Components

Description

Qty.(set)

Rail

6000mm, Heavy Rail, Helical Rack And Pinion

1

Drive model

Double-drive; Panasonic AC servo motor(Japan Brand)

3

Gear box

Neugart(Germany Brand)

3

Plasma power source

Kjellberg SmartFocus400(Germany Brand)

1

Plasma torch height controller

Our factory Sensor THC

1

CNC controller

Our factory LKNC-3200 EtherCAT Controller(17" LED Touch Screen)

1

Mobile Phone APP

Mobile Phone APP Monitor & Remote Control Machine

1

Nesting software

FASTCAM Professional Version(Australia Brand)

1

Cable and hose model

Closed Pedrail

1

Laser point

Laser Point For Alignment

1

Auto rail clean device

Auto Rail Clean Device

1

Auto lubrication device

Auto Lubrication Device

1

FOB Shanghai $61,000
Commerce Terms

Production time

Within 45 days after down payment

Payment term

30% down payment, balance before shipment

Packing

Plywood case and tray

Container requirement

20'GP container
l Warranty: 12 months from the date of bill of lading issued.
l Installation, training and commissioning service terms:
a) Time cost: 1 engineers 10-15 days
b) Engineer's visa fee, round-trip flight tickets from Shanghai to user's spot, food and accommodation cost undertaken by buyer.
c) Engineer's subsidy 80.00 USD per day, per person.
d) Buyer takes responsibility to arrange a Chinese speaking translator to be assistance during installation and training.
· For gantry type cutting machine, this quotation excludes rail installation foundation, cutting table (water cutting table) and pedrail hanger.
TAYOR will supply full sets of drawing to buyer for installation preparations upon receipt of down payment.
*Product images and cutting parameter inside of this file are for illustrative purposes only and may differ from the actual product!
1 Model: CNCSG3000 plasma cutting machine
2 Basic Components
Mechanical Components

CNC plasma cutting torch

1set(Kjellberg)

Plasma torch height controller

1set

Plasma torch anti-collision device

1set

Drive Model

Double-side

Cable/hose Supply Model

Pedrail

Electronic Components

Numerical control system model

LKNC-3200

PLC

Delta(Taiwan Brand)

Electric components

Schneider(France Brand)

Plasma power source model

Kjellberg SmartFocus400

Programming and nesting software

FASTCAM (professional)

Horizontal Servo Driving motor

Panasonic AC servo motor(750W)

Longitudinal Servo driving motor

Panasonic AC servo motor(750W)

Gear box

Neugart(Germany Brand)

Auxiliary Machinery By Buyer

Voltage-stabilized source

We will give requirements

Air compressor

Oil-water separator

Foundations Made By Buyer

Cutting table

We will supply drawing

H beam load bearing foundation

Installation cement foundation

Pedrail Channel
3 Main Specification
Basic Parameter

Effective cutting width

2200mm

Effective cutting length

4000mm

Plasma cutting thickness

1-75mm

Plasma cutting speed

50-9000mm/min

Cutting torch lifting distance

200mm

Idle running speed

0-12000mm/min

Speed setting error

≤±5%

Torch height controller accuracy

≤±1.0mm

Longitudinal line accuracy

±0.2mm/10m

Accuracy Test

Complete machine accuracy

(Subject to the right drawing)

Lineation speed,500-800mm/min

length of a side

±0.5mm

Diagonal error |AD-BC|

±0.5mm

Base point return error

±0.2mm

Intersection point error

±0.5mm

Lineation forward- reverse error

±0.2mm

Plasma Part

Plasma power source

Kjellberg SmartFocus400

Duty cycle

100%

Max output current

400A

Plasma source power

116KW

Machine weight

3.2 ton

Accelerated speed

≥ 0.6m/sec2

Other Parameter

Noise

≤80 db

Motor power

Longitudinal and Horizontal 0.75 Kw 3set
4 Working Requirement
Basic Requirement

Supply power voltage/ frequency

Ambient temperature

-10℃-50℃

Relative humidity

<90% no condensation

Surroundings

Ventilate

Flame Cutting Requirement

Gas type

Propane / Acetylene

Cutting oxygen pressure

0.5-0.8 MPa

Pre-heat oxygen pressure

0.4-0.6MPa

Gas pressure

0.05-0.1 MPa

Oxygen

Purity: 99.5%

Flow: 1.0m3/h

Plasma cutting requirement

Compressed air

O2

Purity 99.5%; Dry, Oil free

N2

Purity 99.99%; Dry, Oil free

H35

Purity 99.995%; Dry, Oil free
5 Programming And Nesting Software (FastCAM Professional Version)
FastCAM is a powerful CAD plotting software specially used for number control cutting and it can read CAD DXF files and choose and output the NC files of different controllers; in addition, it can speed cutting obviously, heighten cutting quality and thus improve social and economic benefits.
Plotting System
Compatibility of plotting software
Special functions to DXF files;
CAD breaking and ranking functions.
Bridge function, including continuous bridge, break bridge and interruption bridge.
Cutting Path
Able to automatically or manually set cutting direction.
Able to set cutting starting port, finishing point and cutting sequence.
Able to set leadin and leadout.
With the mid-layer function of CAD, able to set and conduct cutting, marking and drilling etc.
Nesting System
Able to nest quickly, continuously and automatically by placing hundreds of parts on many steel plates.
Able to conduct optimized nestling on the rest steel plates.
Able to manually interrupt AC automatic nestling and interfere with discharge.
In the optimized nestling process, able to specify, revise and choose parts and have free horizontal movement, rotation and matrix etc.
Verifying System
Able to have analogue check and change to NC cutting files.
Able to calculate material cost and processing cost.
Able to support many controller NC codes and switch among different codes.
Able to provide many languages that Windows platform supports.
Printing: Discharging drawings and name, discharging parts list;
steel plate size, cutting speed, cutting time and steel plate utilization rate;
Programming parameters and number control codes.
6 CNC Controller Details
LKNC-3200B CNC (EtherCAT) Intro
The new CNC Cutting Control System LKNC-3200B is a field bus control system using industrial Ethernet (EtherCAT) based on 64-bit Linux real-time operating system. Instead of traditional motion control axis cards (PMAC) and complex wiring between CNC and servo drives, the new EtherCAT based CNC only uses a common network cable to connect multiple network servo drives in series. In addition, the digital serial communication method adopted by the network cable greatly enhances the anti-interference ability of motion signals and improves the accuracy.
In the Human-Machine-Interface (HMI), the new LKNC3200B continues the multi-task operation of the previous controller: during the process of part processing you can perform multiple operations, such as file editing, graphic changing, parts nesting, network transferring, parameter setting and cutting torch enabling. Equipped with a 19〞high resolution LCD touch screen, it has the characteristics of intuitive and user-friendly interface, easy and simple operation.
This system can also monitor the status of AC servo in real-time environment, and truly realize the control function of true bilateral and full feedback.
In terms of network, the system supports the mainstream industrial communication protocol OPU UA, which facilitates the access of equipment to the group control MES system of major manufacturers.
Specifications:
1. True bilateral, full feedback:
oordinate absolute value and difference value of Double X axis are respectively reflected on the control interface
The alarm information, absolute value, torque, speed, etc. of the motor are fed back to the controller
2. The built-in THC:
Z axis as an independent axis, controlled by servo motor, more accurate and fast
The communication mode of EtherCAT bus ensures 1ms arc voltage sampling period and height change during cutting
The controller interface displays the current cutting torch height and arc pressure in real ti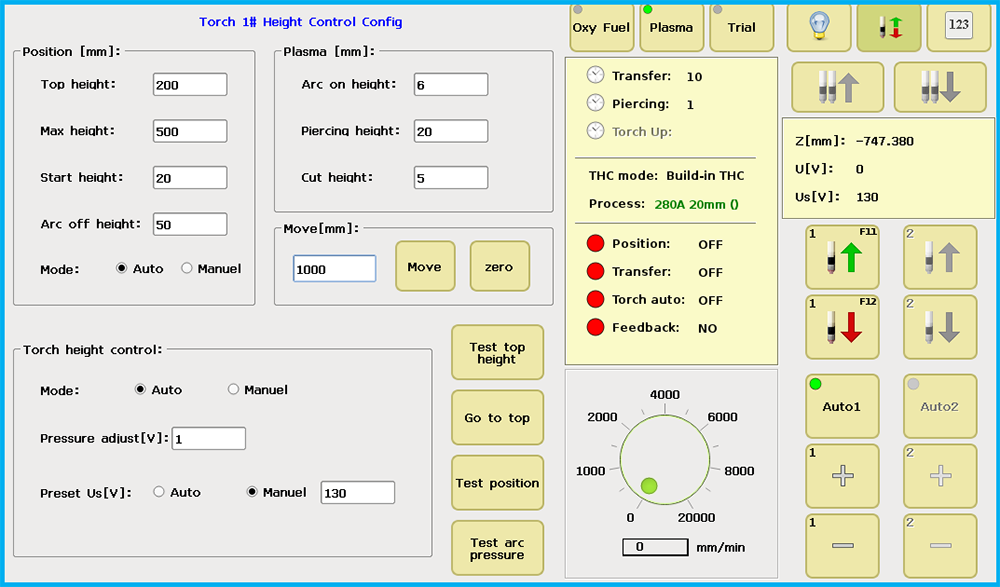 3. Integrate plasma processes: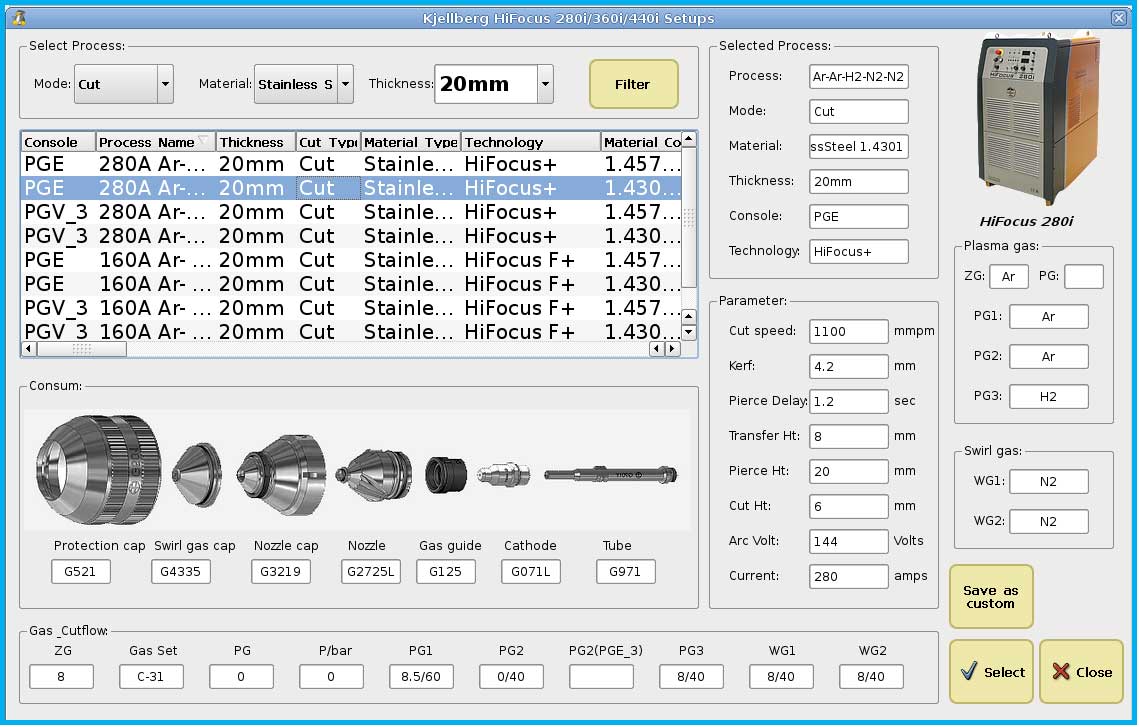 4. Network function
Cutting file transfer by LAN
Remote control, monitoring or screen capture of mobile APP through wireless router
Industrial communication protocol OPC UA: open communication protocol, collect and monitor cutting data in real time, cooperate with manufacturer to customize MES system, and realize enterprise group control operation


7 Affix Files List
| | |
| --- | --- |
| Machinery manual | 1 set |
| CNC system manual | 1 set |
| Ac servo motor manual | 1 set |
| Electricity and connection diagram | 1 set |
| TAYOR inspection report | 1 set |
| Packing list | 1 set |
| Certification | 1 set |
| Full sets of foundation drawing | 1 set |
8 Installation Terms
Seller personnel will supervise installation as following:
1)Rail installation and assembly
2)Positioning of machine and the work table
3)Running of cables and hoses from service entry point
4)Connection of electrical cables and gas hoses to the machine
9 Training Terms
After the commissioning, Seller technician will commence Training.
The customer shall provide sufficient material and consumables to ensure satisfactory completion to training.
The training will comprise of the following things:
1)Overview of machine
2)Control features and operation
3)Machine maintenance and adjustment
4)Supervised running of machine
The training of the machine operator is concurrent with the installation and commissioning, therefore personnel must be available at all times.